Don't skip a beat with Alkimii Property
Everything you need to know, in time and at your fingertips. From NFC checklists, maintenance and shift notes to visitors and incidents.
Request a demo
Give your operations team super powers
Give your team all the information they need, integrated into a single app they already know and use.
Don't skip a beat
Nothing can fall through the cracks, no matter how busy it gets – Alkimii Property checklists, handovers and reports have you covered.
Smooth sailing
Preventative maintenance is a cinch with hotel and group-level overviews. Always maintain the quality your guests expect.
Always in the loop
Manage staff and guest incidents as they happen with seamless communication and full oversight.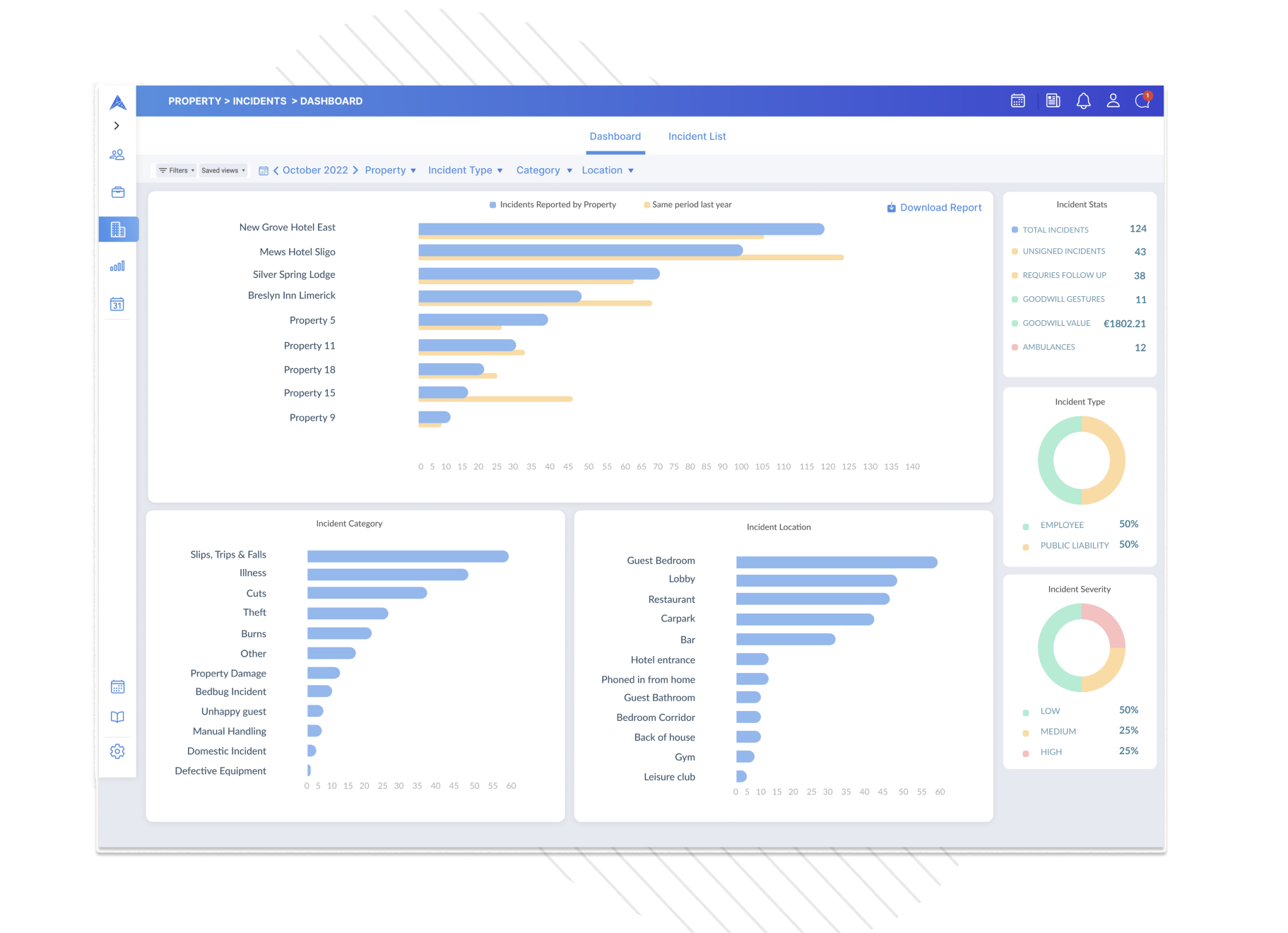 Incident reporting
Prevent costly incidents from going unreported. Instead, manage events in real time, returning to service excellence as soon as possible. Workflows and dashboards give you real time visibility.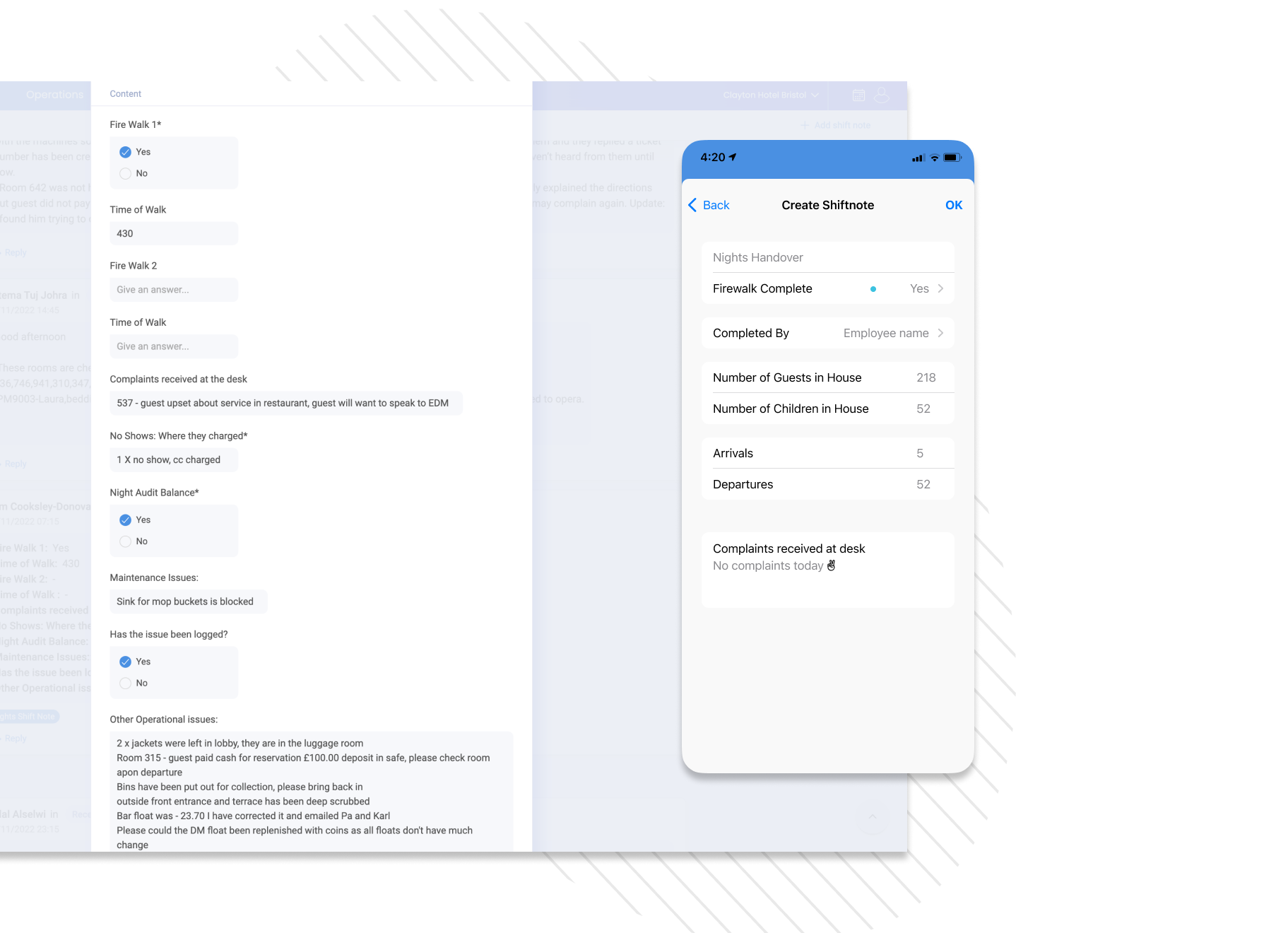 Shift hand over notes
Get your operations team talking with seamless communications between shifts on desktop and mobile. Alkimii Property shift notes are easily configured to capture the info your people need. Create templates for different shifts.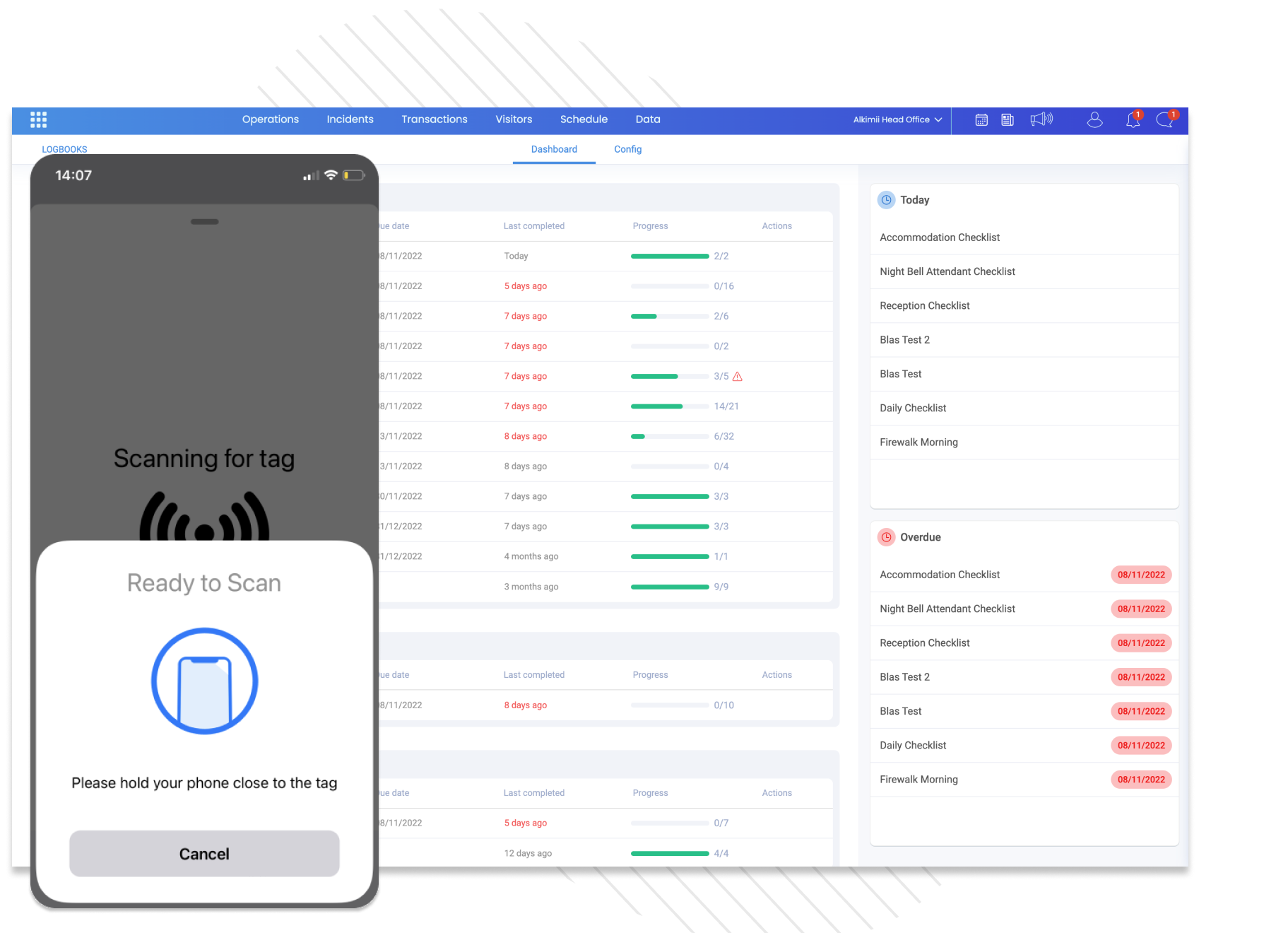 NFC checklists
Make sure work is done on time and in full with configurable calendar-centric checklists, including operational, maintenance, fire, and health & safety tasks. Need a picture? Easily upload one.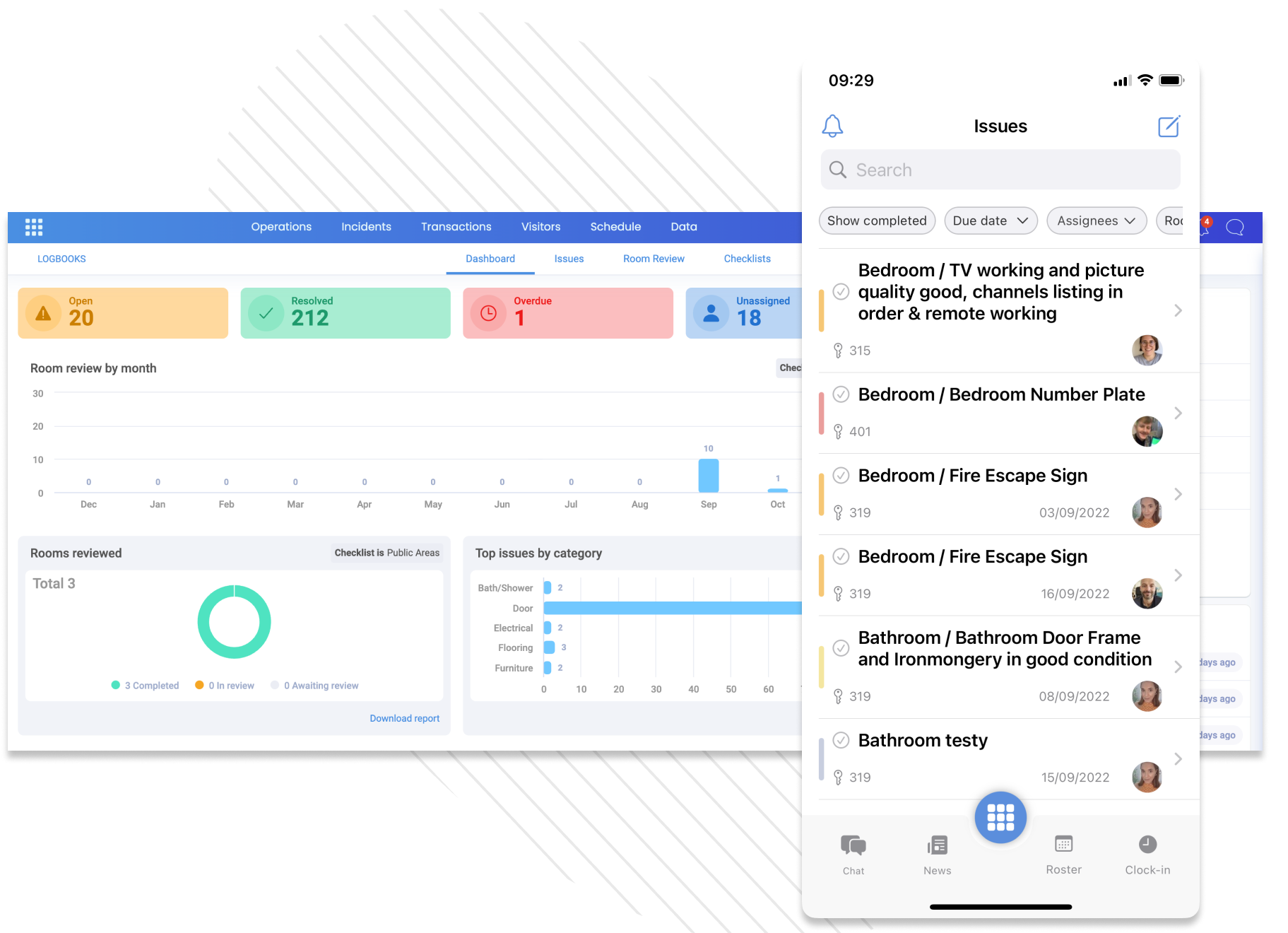 Proactive and reactive maintenance
Checklists make sure things are done on time, and instant reporting prevents the unexpected from escalating. Tracking and progress reports let you oversee and analyse issues and progress at a glance.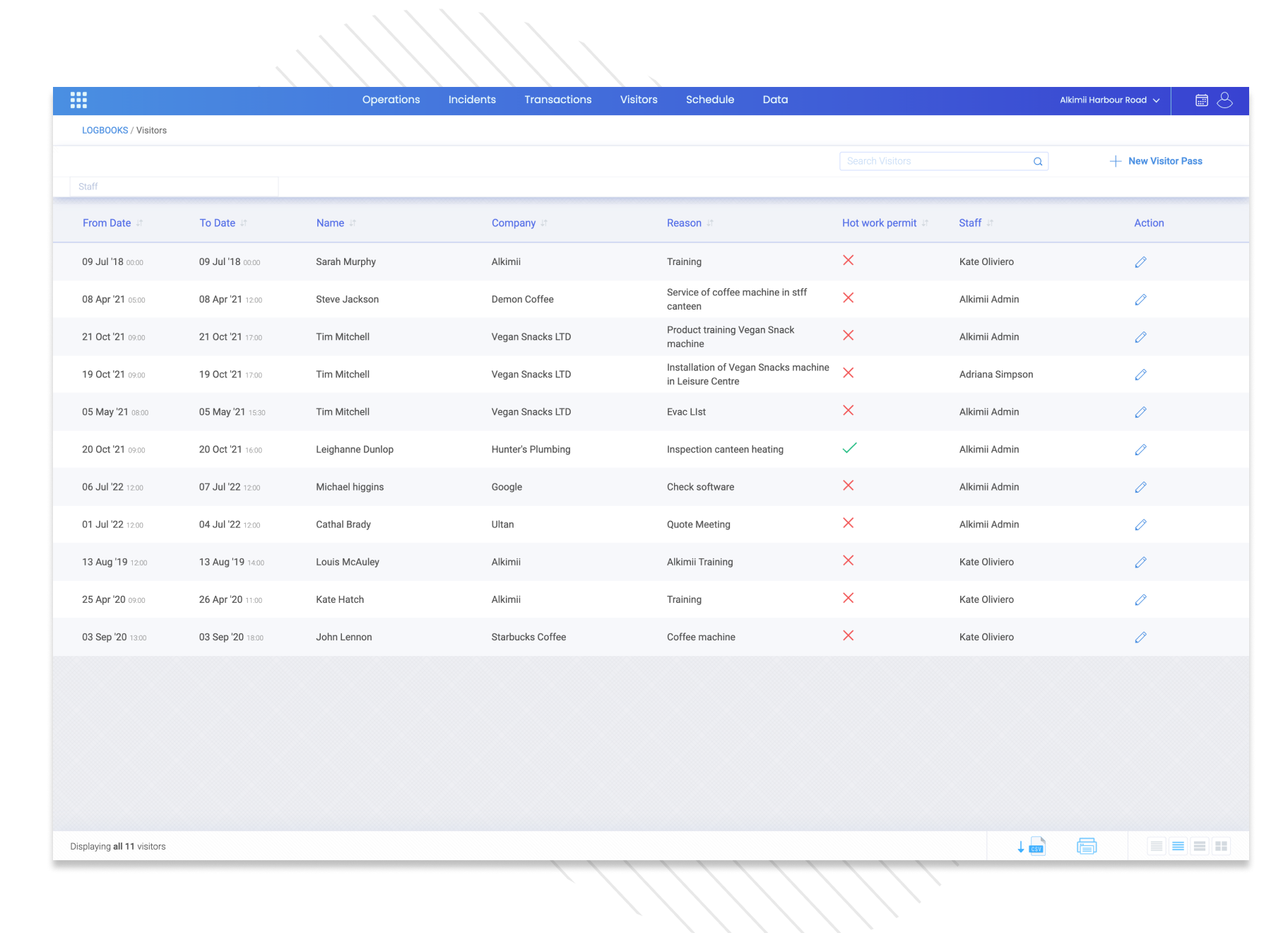 Visitor log
Keep track of who is accessing your hotel, including suppliers and inspectors, and who has their hands on master keys. Print your visitor ID badges directly from Alkimii too.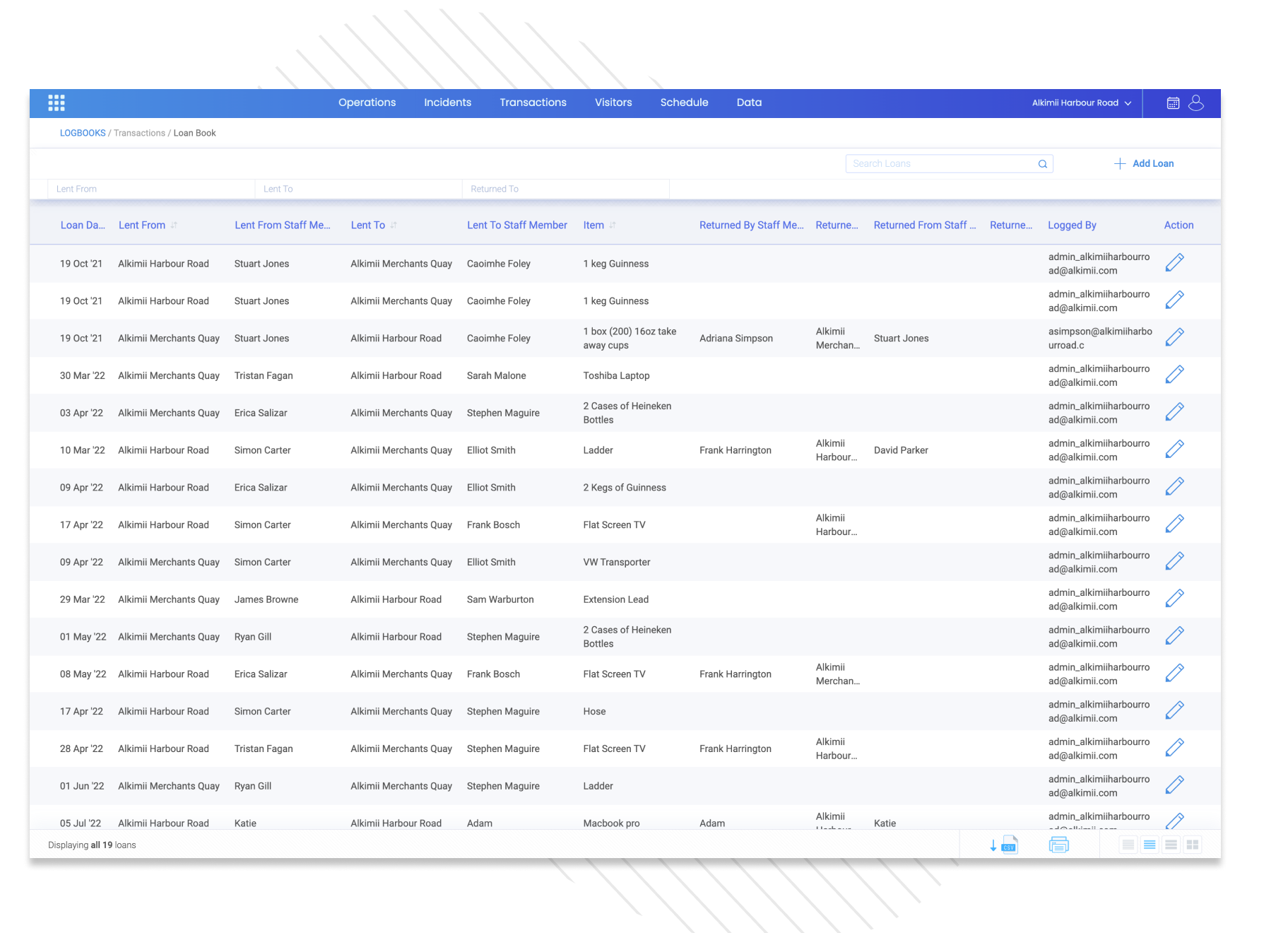 Loan book
Avoid the end-of-month scramble with Alkimii Property's loan book. Keep track who loaned what to whom. A dashboard gives you an at-a-glance overview, and filters make managing returns as easy as loaning the item in the first place.
300+ Hotels trust Alkimii every day
This is what our customers say.
I would highly recommend Alkimii. We Have been using Alkimii for 3 years now and its a great tool for HR, Management and staff. Great support from all the Team and they are always improving their system and bringing in new features to suit individual needs and requirements. Staff are very accommodating, efficient and helpful.
Malini Deepchand
Alkimii Customer
I have been using Alkimii for several months now and have found application extremely easy to use and understand. In addition to this any issues that I have had have been dealt with quickly and efficiently by the support team.


Arron Gallagher
Alkimii Customer
One of the best payroll/ roster/ handover/ reporting/ forecasting companies in the market. Worked with good few previously, but Alkimii is outstanding of them all. Amazing customer service. Always helpful. Prompt response-I mean within minutes. Absolute pleasure contacting Katie, Niamh W, Niamh E, Gary White and all the team. Couldn't be more helpful. Thank you for your assistance! Pleasure as always.
Find out how Alkimii Property, integrated into the Alkimii platform, can make managing and maintain your hospitality properties quick, easy and seamless.
Request a demo today