300+ hotels trust Alkimii




Services built into the Alkimii platform
One login for integrated HR, employee & operational communications & processes.
If you can use a smartphone, you can use Alkimii.
Alkimii for people
All your HR requirements in one digital place that you take with you.
This is the heart of the Alkimii service:
Take the paperwork out of HR
Keep your people engaged and connected
Free up yourself and your team to focus on your guests
Find out more
Alkimii Property
Give your operations team superpowers with the info they need, when they need it.
Alkimii Property is a single source of truth for:
Checklists, handover and reports
Maintenance overviews & proactive maintenance
Seamless incident management
Find out more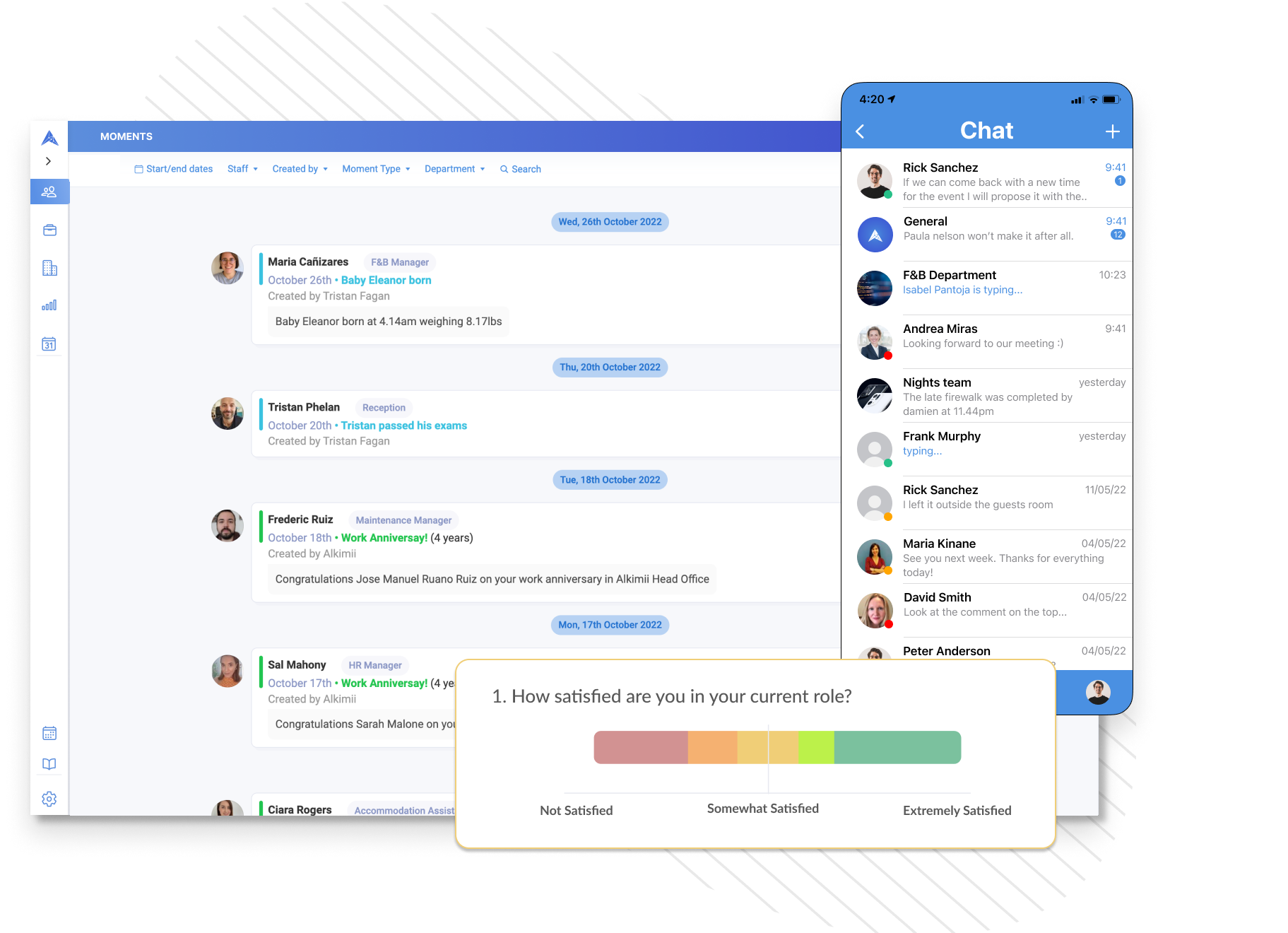 Engage your employees
The best people need the best tools to do their best work. Alkimii is simple and beautiful to use, making your people more productive and allowing them to just get on with what they need to do.
From clocking in, to checking their rosters, requesting leave, reporting issues, handovers, and staying in the loop. Alkimii is a platform your people will want to use.
Find out more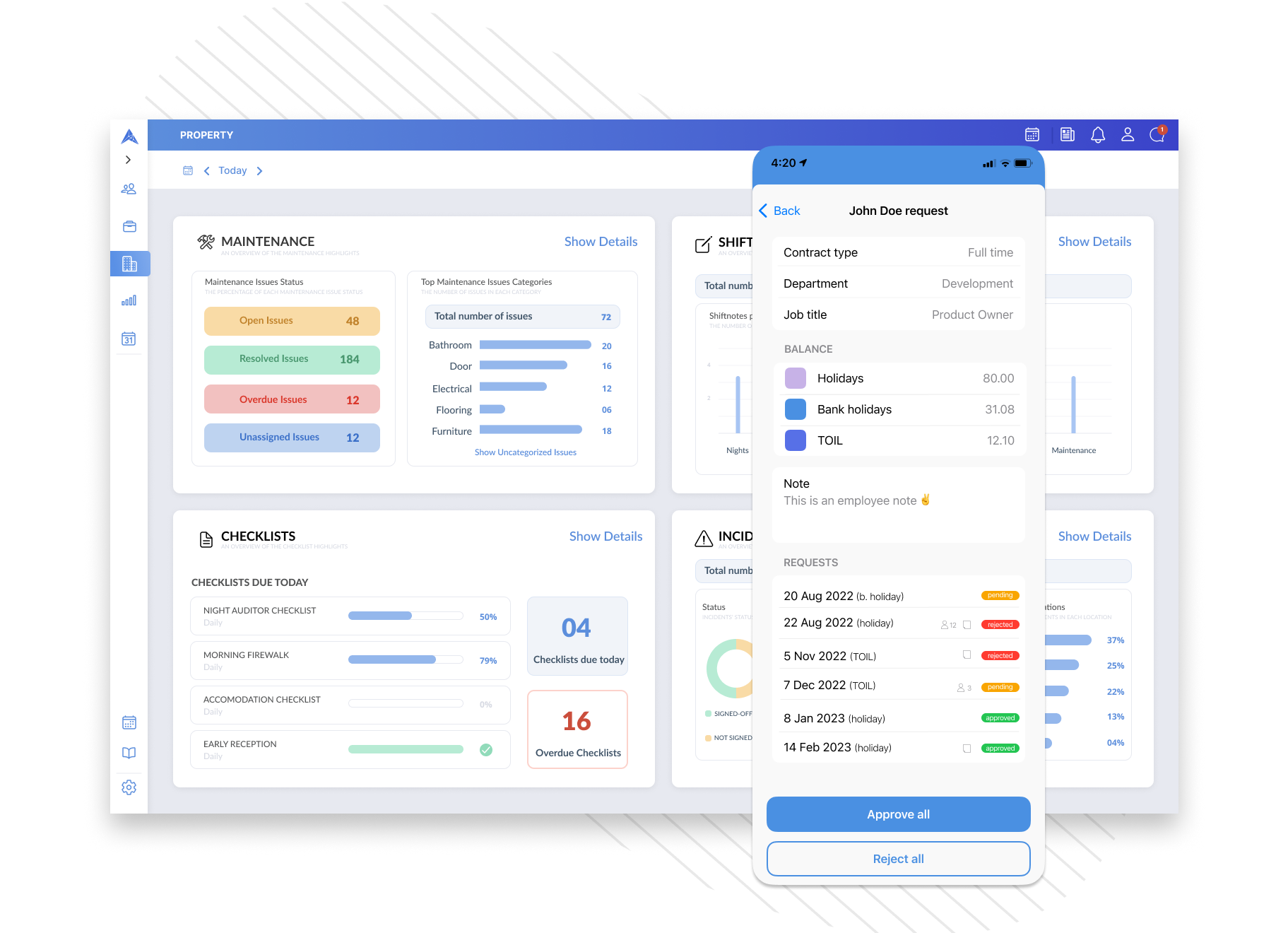 Predict, analyse and manage costs and risks
Because all your data is digital and in one place, you can use Alkimii's dashboards and reports to predict upcoming payroll costs, compare allocated staffing to upcoming sales, and get your people paid.
Because you can get early visibility of any gaps or surprises, you can take action today to maintain productivity and customer service tomorrow. (Top tip: the more you use Alkimii, the more you'll benefit.)
Find out more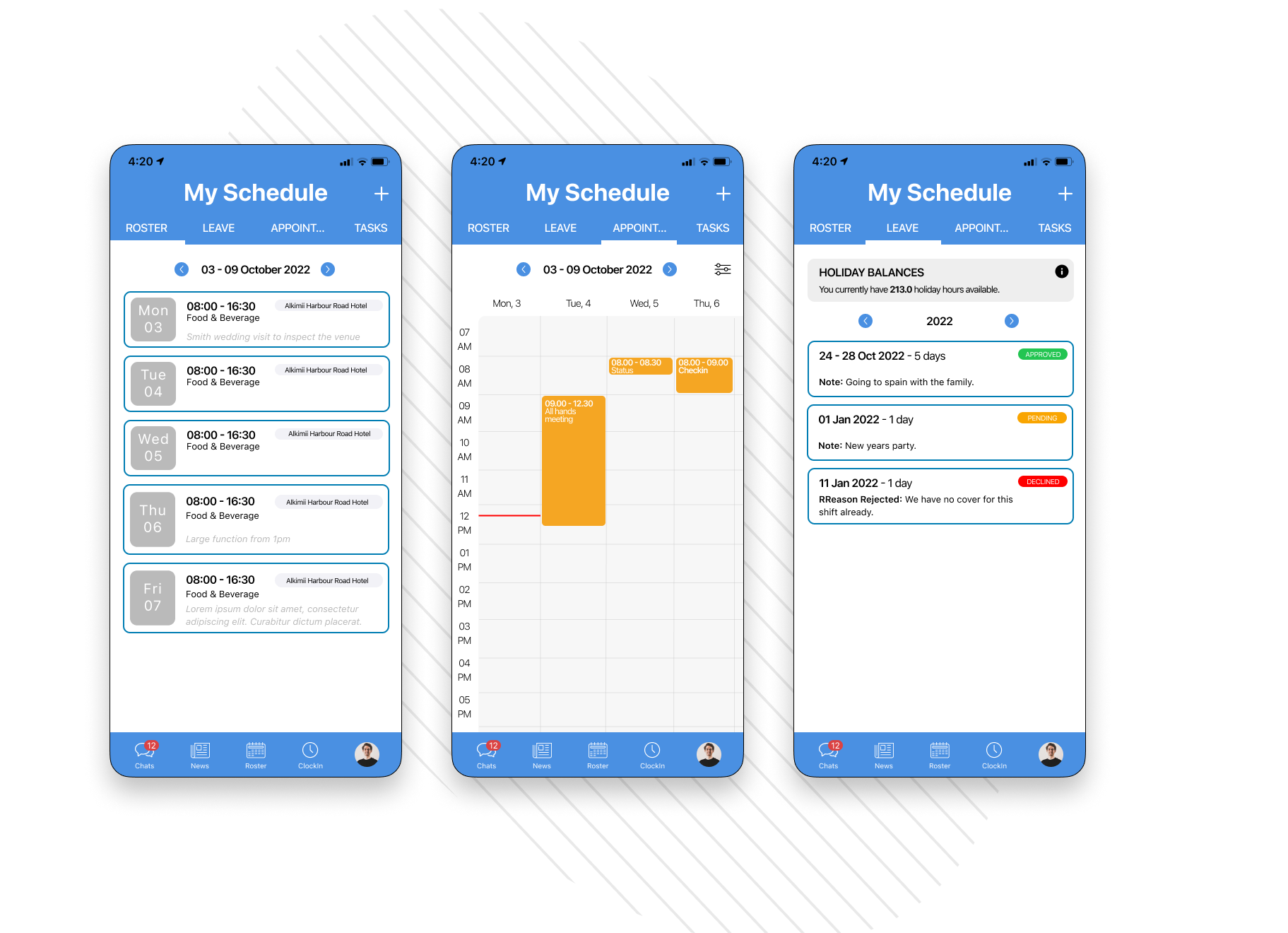 Turn busy into productive
Alkimii makes processes such as onboarding people, forecasting and budgeting, and payroll management digital and mobile.
This saves you time and paper and frees you up to focus on strategic, impactful work like training and employee engagement, proactive maintenance, and reporting and analysis.
Find out more
300+ Hotels trust Alkimii every day
This is what our customers say.
I would highly recommend Alkimii. We Have been using Alkimii for 3 years now and its a great tool for HR, Management and staff. Great support from all the Team and they are always improving their system and bringing in new features to suit individual needs and requirements. Staff are very accommodating, efficient and helpful.
Malini Deepchand
Alkimii Customer
I have been using Alkimii for several months now and have found application extremely easy to use and understand. In addition to this any issues that I have had have been dealt with quickly and efficiently by the support team.


Arron Gallagher
Alkimii Customer
One of the best payroll/ roster/ handover/ reporting/ forecasting companies in the market. Worked with good few previously, but Alkimii is outstanding of them all. Amazing customer service. Always helpful. Prompt response-I mean within minutes. Absolute pleasure contacting Katie, Niamh W, Niamh E, Gary White and all the team. Couldn't be more helpful. Thank you for your assistance! Pleasure as always.
Alkimii is a group of hospitality and software people who want to build the digital tools that hotels need (and will use) to make you and your people more productive so that you can offer the best service to your guests. From the general manager to the front desk.
Fast training and implementation – we keep your people on the floor
Time off the floor means less guest interaction. So we keep your people where they need to be.
Kind service from wonderful humans
We're here to serve. And for us, kindness is at the heart of service. So kind service is how we make an impact.
100-day ROI on the Alkimii Finance service
Our customers have shown that the more you use the Alkimii Finance service, the more you see the benefit – including a 100-day ROI.
Alkimii is a simple & beautiful HR and operations platform that will engage & empower your people.
Good people do a great job with the best tools.
Request a demo today